Description
Features:
Auto calibration
Limited metalworking
Turn-milling-grinding-processing possible
100.000 rpm | 860 W
high-frequency spindle
Modern, closed mono-block cast body for highest stability and precision
Dry machining possible
High precision due to integrated temperature compensation
Minimal footprint
Highlights:
Novel, closed mono-block cast body for highest stability and precision
NoexternalPCrequired
Half-openblankholder"C-Clamp"(optional)
Ionizerinclusive
Highprecisionduetointegratedtemperaturecompensation
Wet and dry machining is possible
Minimum external compressed air, only 3 bar required
Shortamortizationperiod
Minimal footprint
Auto-calibration
Automatedcleaningfunction
Metal processing*
Turn-milling-grinding-processing possible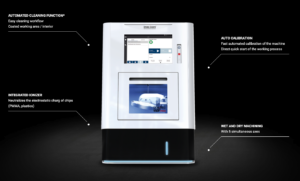 Material Applications:
Zirconia
Glass Ceramics
Composite
PEEK
TI Pre-Fab Abutments
CoCr
Composite
Wax
Restoration Applications:
Crown/Bridge
Inlay/Onlay/Veneer
Hybrid Abutment
Splint
Full Denture
Model
Model Casting
Surgical Guide
Abutment
Telescopic Technology
Specifications
| | |
| --- | --- |
| Weight | 135 kg |
| Dimensions | 19.0 × 22.0 × 23.6 cm |
Why Choose Opulent Digital Specialists
Installation & Training
Opulent Digital Specialists offers Installation and Training for all equipment purchased through us.

Ongoing Education
We excel in Installation and Training but where we really shine in is ongoing training.
24/7 Technical Support
Opulent Desk is available 24/7 to support our customers with both first and second level support.