Description
Zolid Bion perfectly combines esthetics and safety – without any compromises. The material behind Zolid Bion is revolutionizing the field of all-ceramic materials made of zirconia. 
The continuous color gradient, combined with increased translucency in the incisal area, creates naturalness without having to compromise on safety. Innovative raw materials permit an increase in the required minimum strength according to Class 5 (DIN EN ISO 6872) across the entire blank. This allows total freedom in planning as well as in application and provides the required safety across all approved indications. From minimally invasive veneers to monolithic crowns on front teeth and long-span bridges on implants. There are hardly any limits to the range of applications for Zolid Bion. Zolid Bion is also the very first zirconia in its class to be capable of being high-speed sintered. This provides for very efficient sintering management in the application with crowns that can be removed from the Ceramill Therm DRS high-speed furnace within 45 minutes. 
Amann Girrbach has not only adopted nature as a model in terms of esthetics – but also in the field of renewable materials. As a first step, Zolid Bion blanks as well as other CAD/CAM  blanks from Amann Girrbach are therefore supplied in ecological plain cardboard packaging.  
STRENGTH:
Class 5 zirconia, 1,100 MPa average strength, enhances restoration safety.
NATURALNESS:
Increased translucency at incisal edge for a natural 3D effect.
SPEED:
45-minute sintering cycle boosts workflow efficiency.
ASYMMETRY:
Nature-inspired shade concept for optimal esthetics.
Properties without any compromise for a greater diversity of indications
Owing to the no-compromise combination of natural esthetics, high strength as well as the extensive shade and height portfolio, virtually any restoration can be realized, whether veneer, crown or wide-span Bridge.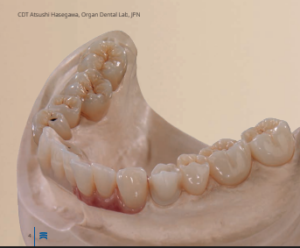 Specifications
| | |
| --- | --- |
| Weight | 1.5 kg |
| Dimensions | 6 × 2.5 × 7.5 cm |
| Size | 98 X 12, 98 X 14, 98 X 16, 98 X 18, 98 X 20, 98 X 22, 98 X 25, 98×30 |
| Color | A1, A2, A3, A3.5, A4, B1, B2, B3, B4, BL1, BL2, BL3, BL4, C1, C2, C3, C4, D2, D3, D4, BL0 |
| Brand | |
Why Choose Opulent Digital Specialists
Installation & Training
Opulent Digital Specialists offers Installation and Training for all equipment purchased through us.

Ongoing Education
We excel in Installation and Training but where we really shine in is ongoing training.
24/7 Technical Support
Opulent Desk is available 24/7 to support our customers with both first and second level support.
Join Our Newsletter!
Enter your email for Our Digital Dentistry Newsletter & promotions.